We need your vote at Town Meeting Monday night, May 7th!
SAVE OUR FOREST – SAVE OUR AQUIFER!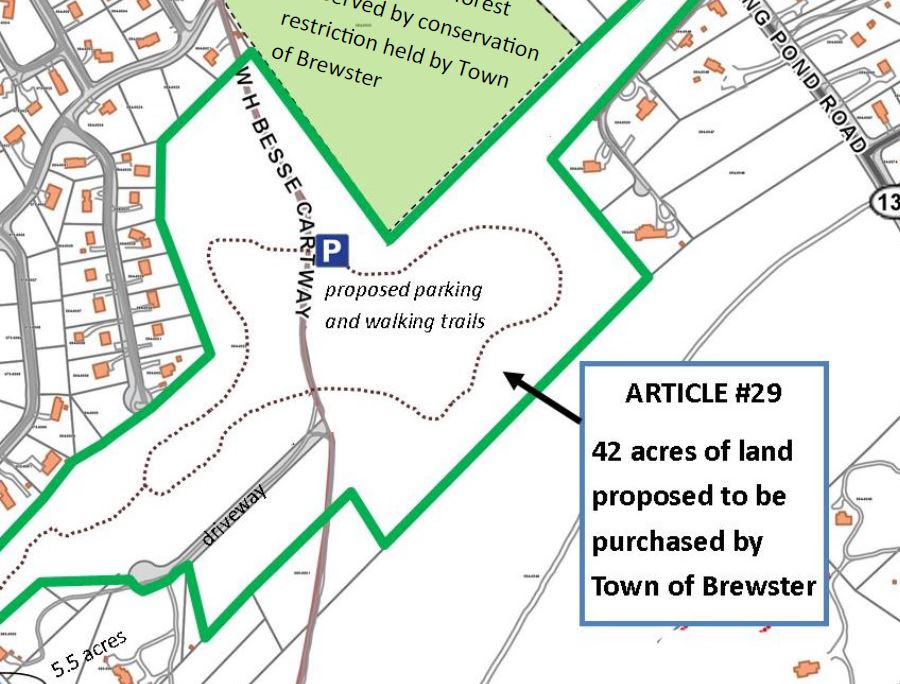 The Brewster Conservation Trust strongly supports Article 29 of the Special Town Meeting to preserve 42 acres of forest stretching from Route 137 to the shore of Long Pond.  More than half of the property to be purchased lies within the zone of contribution to our main Town wellfield across Route 137.  The parcel includes 135 feet of pond shoreline and will host a long loop walking trail for public use.
BCT has pledged $230,000 towards the $1.75 million purchase price by the Town.  The Town will also apply for a $400,000 LAND grant from the State to offset the price.  All Town funding comes from the Community Preservation Fund, so the purchase will not increase town taxes.
Article 29 is supported by the Select Board, Conservation Commission, Open Space Committee, Community Preservation Committee, Water Commission and the Brewster Ponds Coalition, along with BCT.
For more information, please click here for the fact sheet.
Please attend Town Meeting and Vote YES on Article 29.
Town Meeting is on Monday, May 7th at 7:00 pm at Stony Brook Elementary School.