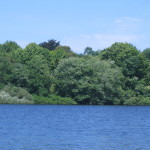 There will be one less house between historic Stony Brook Road and Smith Pond, now that the Brewster Conservation Trust has purchased a 2-acre building lot there this March.  We could not have done it without the strong support of the Stony Brook Road neighborhood, which raised the funding for the $235, 000 acquisition by BCT.  In the end, BCT only needed to contribute $19,000 of its own funds for the purchase. 
The Town had previously permitted a single family home to be built on the lot, and, in fact, a septic system had already been installed.  Wetlands on the lot required that the house would have been built tight up against the scenic roadway.  BCT already owned a 3-acre parcel on Smith Pond (where the big boulder sits by the road) and we liked the idea of buying this last unbuilt lot on the pond, if the neighbors could cobble the funds needed.  
This acquisition is part of the BCT's Priority Ponds Project, created in 2003 to identify and support freshwater pondshore parcels whose preservation is important to the habitat and water quality in our many Brewster ponds.   By the way, did you know that Stony Brook Road follows one of the original Native American east-west trails through Brewster?
Our thanks to the dozen neighbors and their friends who donated.  And thanks to Realtor Howard Hayes of oldCape/Sotheby's Realty who negotiated the bargain price for us and contributed his fee to the BCT.