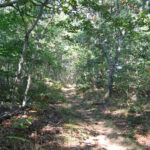 At the end of 2011, John and Joann Figueras of East Brewster donated a 2-acre woodlot to the Brewster Conservation Trust.  This parcel, thickly wooded with pitch pines, oaks and huckleberry, knits together three adjoining parcels of protected open space owned by the Town of Brewster.  It also is traversed by an old cartpath used by many walkers and joggers to get from the Baker's Pond area into Nickerson State Park.  With this land gift, the Figueras family has provided continuous public access over the cartparth.
The land parcel also adds to the BCT's Huckleberry Hill project, saving the highest (134 feet!) hill in Brewster.  The Trust bought 10 acres near the hilltop in 2011.  This area is a one of the last wild frontiers in Brewster, notable for its very large and visible deer population. 
The Figueras family is also one of the first pioneers in Massachusetts to take advantage of the new State tax credit for conservation land gifts.   They are able to receive a refundable tax credit from Massachusetts for half of the value of the land donated.  This is in addition to traditional federal income tax deductions available for donations of land to non-profits like BCT.  (More information about these new tax credits for landowners is available here.)
Some people know Joann Figueras as a PAL; she is an active Pond and Lake Steward in Brewster who has sampled the water quality of nearby Baker's Pond for many years as part of the town and county monitoring program.  We honor Joann and John's commitment to the environmental quality of Brewster.