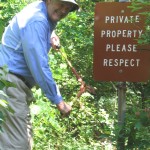 Peter Johnson cuts chain to open the trail
On July 12th, Trustees of the BCT joined three generations of the Somers family for our first open-air "closing."  We celebrated BCT's purchase of a half-acre along Lower Mill Pond, including the trail to Fishing Rock.
The Somers family has owned this shoreline since 1944, including the big granite boulder known as Fishing Rock that juts out into the pond.  We have raised half of the $10,000 project costs, including the land buy and survey.  Please consider making a donation to this small but important project.  (You can donate right here on our website.)   And then come use the trail.
"This just makes so much sense, to open the trail for others to enjoy," said Caroline Trickey, representing the Somers family. "The first thing we would do upon arriving for the summer as children was to run down the path from the house to Fishing Rock.  It was our playground.  All children should have that opportunity."
Allen Somers, father of Caroline Trickey and Sarah Adelaide Walker, also attended. His parents had bought the property as a  summer retreat during World War II.  "I know and expect the Conservation Trust will keep the land as is," he said. "It's been a special place to us, as I know it is to many other people who enjoy the herring run."
BCT Vice-President Peter Johnson brandished a pair of bolt cutters and cut the chain that had previously barred public use of the trail to the boulder.
To watch a 2-minute video of the herring run, click on this link.
For more information, click on the link: http://www.capecodonline.com/apps/pbcs.dll/article?AID=/20100709/NEWS/7090312/-1/NEWS01